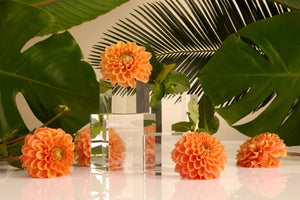 our process
At Li Organics, our formulas function synergistically. Our goal is to create formulas that work with the intelligence of the human body- leveraging each ingredient to function at its best for noticeably healthier & radiant skin.

Each ingredient present is chosen at its exact percentage and ratio, and has a complementary action on every other ingredient present. This in turn maximizes the absorption and efficacy of all ingredients working together in concert to nourish your skin to its very best.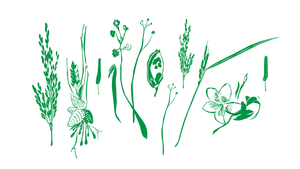 A PARTIAL LIST OF PLANT CONSTITUENTS IN OUR FORMULAS
Vetiver

Unlike other grasses whose roots grow horizontally, the roots of vetiver grass dig deep into the earth producing sharp edged leaves, tiny flowers, and aromatic roots that are rich in a wide palette of naturally occurring nourishing sesquiterpines. The thick amber oil is extracted from the root via a steam distillation process. Vetiver oil speeds up the eradication of scars, promoting the growth of new skin cells, while helping skin to appear smoother and more uniformed.

Tamanu

Indigenous to tropical Southeast Asia, tamanu trees are grown in Malaysia, Thailand, Myanmar, Vietnam, and the Polynesian islands. The tree blooms twice annually with fragrant, white, flowers, which later yield clusters of yellow round fruit. Within the fruits contain an embedded nut which is the dried in the sun for two months until it turns sticky, with a dark, thick, rich oil. This sticky oil is then cold pressed to yield a potent anti inflammatory that aids our skin in the minimizing of wounds, excema, and acne. It does so effectively by nourishing and accelerating the skins ability to regenerate new skin cells quickly.
It takes 100 kilograms of tamanu fruit, the amount that one tree produces annually, to yield just 5 kilograms of cold pressed oil.

Whole grain fermented rice

A time tested, science confirmed South East Asian beauty tradition, that feeds the skin the vitamins and minerals it needs while soothing it from UV damage and hyper pigmentation. Rice is naturally high in gamma oryzanol, a powerful antioxidant that naturally brightens the skin as it protects skin lipids from oxidative stress. Our rice pebble mask also stimulates the sebaceous glands, strengthening our skin barrier and is therefore ideal for dry and mature skin, especially in combination with its light-protective effect.

Lemongrass

Lemongrass is a fragrant tall grass growing in dense clumps to about a height of 4 feet and seldom flowers. Its distinct lemon-scent with a hint of rose tones and purifies our skin, also works as a powerful natural antibacterial agent while being a secret time tested remedy for breakouts.

Key Lime

Cold pressed from fresh key lime peel, key lime is uplifting and naturally abundant in Vitamin C to bring back vitality to the skin while brightening its skin tone and helping to calm down skin irritations.


Cajeput

Cajeput Essential Oil belongs to the Melaleuca family and is known for its therapeutic properties and wonderful aroma. Medicinal and camphorous, cajeput works similarly to tea tree oil and works like a charm against breakouts. It is warm, slightly astringent, tones, and clarifies the skin

Patchouli

A multi action, natural anti fungal that works to combat dryness, eczema, and inflammation while over time, minimizing and lightening old scar tissue.

Guava seed

Our Guava Seed oil is cold pressed and unrefined and sourced from the purest distillers. Its exotic scent reminiscent of lemon with a hint of rose, will nourish and soothe sun damaged, thirsty skin quickly via its rich polyphenol, flavanoid, and linoleic fatty acid content.

Palmarosa

Pleasantly rosy and citrusy, Palmarosa is an excellent anti fungal and anti viral that hydrates, stabilizes, and rejuvenates the the skin and senses while counteracting dryness and acne.

Seabuckthorn berry

Cold extracted from whole Sea Buckthorn berries, this highly concentrated oil is a tiny yet mighty workhorse. It is loaded with 190 bioactive substances including fatty acids, tocopherols, carotenes, and phytosterols that have been found to work synergistically to deeply nourish your skin at the cellular level.