10% FOR A BRIGHTER TOMORROW
BEYOND SKINCARE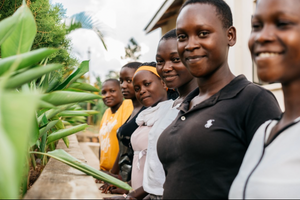 We realize that life is short and time often flies by too quickly. At Li Organics, we want to look back with gladness in our hearts on how we spent our time and resources. We believe that true and lasting beauty begins in our hearts, and through our partnership with Project Orphans, we are seeking to give children a better self worth and hope for a brighter future through critical care and opportunity for education.

For every purchase made at Li Organics, we give a portion of our profits to the following areas of impact. Here is how your purchase specifically helps another life in need of love and care.
NEW MOTHER AND BABY KITS
The first weeks of a newborn's life are the most critical. Your Li Organics purchase helps a new mother provide the essential things to her new baby like a newborn care medical checkup, diapers, warm blankets, a container for clean water, and soap.
END PERIOD POVERTY
On average, a young girl in a developing nation will miss around 80 days of school each year due to a lack of access to menstrual hygiene products. Through our partnership with Project Orphans, your purchase at Li Organics provides teenage girls living in Uganda menstrual products giving girls the opportunity to stay in school without shame or interruption! Thank you with all our hearts for helping these children stand tall and have hope for a brighter future. Take the first step to nourished and visibly radiant skin and join us in making a beautiful difference in a child's life today.
Love,

Li Organics Family

and Project Orphans.