Why Melting Formulas Are Skincare's Latest Obsession
---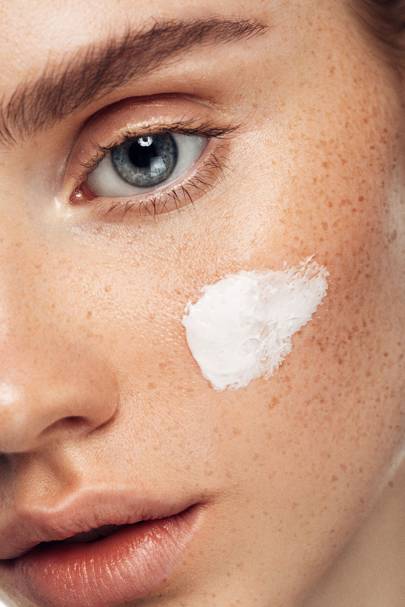 There's a new category of beauty product you need to make space for on your shelf. Forget serums, oils, creams, gels or even essences; this latest innovation is "melting formulas", which transform themselves during use – from solid into liquid, gel into oil, water into milk. Like many beauty trends, their origins can be traced to Korea and Japan, but the products aren't just about alchemic wizardry: experts claim they're gentler, more easily absorbed by the skin and able to fight everything from breakouts to fine lines. Vogue looks at the ones to try now.
There are multiple forms of melting cleanser, from solid balms to lotions – such as Sanoflore's Aciana Botanica Gel (which starts as a gel, melts to an oil, emulsifies with water and then becomes a milk). "Melting formulas are designed for a modern lifestyle: they're simple, effective and at the same time easily transportable for life on the go," says Maria Lam of new launch Wildsmith Skin. Its solid Active Repair Nourishing Cleansing Balm uses eight plant oils that melt on contact with skin to dissolve impurities.
"Melting cleansers are wonderful because you apply them first on your fingers and this allows the product to adjust to your body's temperature, enabling it to penetrate the skin, and lift dirt and pollution more effectively without stripping the skin's protective layer," explains Quantum Botanika founder Nataliya Robinson. "Choosing a solid or semi-solid cleanser has myriad benefits," adds expert facialist Amanda Lacey. "If you think of your skin as a cake you're trying to ice, melting formulas give you more control to really work the product into the areas you need to – they're like working with buttercream rather than runny icing."
The Masks
Get ready to brush up on your melting-formula lingo, because there must have been a serious brainstorming session for categorising the new melting masks. There are four main types: exfoliating sherbets, semi-solid formulas, solid pebbles and Korean-inspired sheet masks. The tantalisingly named sherbets are finely ground powders – like Sensai's Silky Purifying Skin Peeling Powder – which dissolve and foam on contact with water to exfoliate dead skin. What makes them unique is that they often contain a mix of exfoliating and moisturising ingredients, so skin is left feeling super-smooth, but never tight or dry.

Semi-solid masks, such as Bioré's Self-Heating Mask, take a different approach. "We developed it in the R&D labs in Japan," says Bioré's Erica Palmer. "It contains zeolite, a naturally occurring mineral derived from volcanic rocks, which quite literally melts upon contact with water as its chemical bonds break to release heat of up to 50 to 55°C (coincidentally also the "melting" point of sebum) to thoroughly clean pores."
While solid pebbles, which look rather like pie weights, have been around for years in Asia, they're only just making the leap onto the global stage. Expect to see a lot more of them over the next 12 months – such as Li Organics' Radiating Rice Pebble Mask, which is made from wholegrain fermented rice that dissolves in water and treats everything from hyperpigmentation to blemishes.
Finally there's your trusty sheet mask, which – like Lancôme's Advanced Génifique Hydrogel Melting Mask – you can rely on for unparalleled hydration and fine-line fighting power. In Lancôme's case, the hydrogel technology packs a single mask with enough bifidus extract to fill a whole bottle of the brand's cult Génifique Serum – so you can perceptibly feel it melting into your skin, leaving it smoother and fresher.
The Moisturisers
While cleansers often increase their oil and decrease their water content to produce a melting effect, moisturisers take the opposite approach. When the fatty ingredients responsible for making a cream creamy are removed, the result is a group of water-based semi-solid formulas. They have the texture of jelly, but melt on contact with the skin into a consistency that feels exactly like water.
"Staying sufficiently hydrated isn't just about drinking eight glasses of water. The same rule applies to skin," says Dr Howard Murad, founder of Murad Skincare. "Water-gel moisturisers combine the lightweight texture oily skin types love with the hydration benefits of a cream that every skin needs. They absorb faster, feel cleaner and never leave behind a greasy residue," he says. Murad's new, a Nutrient-Charged Water Gel super-lightweight formula that melts to release cool water on application, has been shown to leave skin more hydrated five days after use than traditional creams. 

Water offers a different method of ingredient delivery to traditional creams – something Vichy's Aqualia Thermal range employs to full effect. Mimicking the isotonic rehydration drinks used by athletes, it contains sugar, minerals and water suspended in Vichy's Mineralizing Thermal Water to plump fine lines and boost hydration. Also worth looking out for are L'Occitane's Aqua Réotier range and Tatcha's new The Water Cream, which has Japanese botanicals suspended in a gel that "bursts" on application.